For various reasons it is sometimes handy to have short URLs to my posts. After reading this post and some surfing around I selected Cli.gs as short URL service.
I couldn't find a simple WordPress plugin to create and display Cli.gs short URLs, so I wrote Cli.gs and Tweet. As the name suggests this plugin can send a customizable Twitter message containing the created short URL too. This plugin can also inserts code into the page header for short url auto-discovery.
There is no setup required if you only want to automatically create short URLs when saving posts and display them above your posts. If you want to send Twitter messages, you just have to enter your Twitter user name and password. The appearance can be modified by some settings and/or by modifying a style sheet.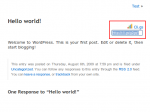 This plugin requires PHP 4.3.0 only.